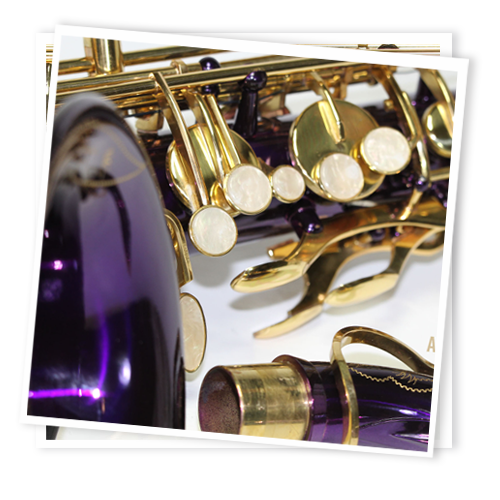 This saxophone has the same number of keys as the Yamaha, and other famous brands. It sounds pretty much the same, and its weight is nearly identical to the Yamaha.
I'm a saxophone teacher and I hire and sell my Masterpiece brand saxophones to my students. Occasionally, I need to make a small adjustment, which involves tightening a tiny screw about 10 degrees. This is a small price to pay for the joy and excitement of playing on a shiny, brightly colored instrument. Admittedly, if my students were playing brand new Yamaha 280 saxophones, it's unlikely that any adjustments would be necessary.
However, there won't be any WOW! factor, because Yamaha does not make colored saxophones. Furthermore, their student model 280 costs $1480 – about 3 X as much as my Masterpiece brand. You can even find cheaper colored saxophones than the ones I sell, but I cannot recommend them because I have no control or faith in the quality.
When I first started offering colored saxophones I bought them from several different suppliers. Some suppliers sent me saxophones that were so badly made they were unplayable. I don't buy from those factories anymore. Some of my competitors must be buying from them because those factories are still in business. Now that I have found a reliable supplier I still check every saxophone to make sure it is playable. Every Masterpiece saxophone is working perfectly when it leaves me.
The warranty I offer says that for 12 months, if you have any problem with the saxophone you can return it to me and I will fix it free of charge, or replace it if it's unfixable. In 2013, St Peter's Girls School in Adelaide hired a batch of Masterpiece saxophones for two terms and did not report any problems.