Flute Lessons Too Expensive?




Teachers Too Far Away?




Can't Find a Teacher You Like?




Too Shy to Take Lessons?




Time Can Change All these Things…




Meanwhile, You Can Learn to Play the Flute Today!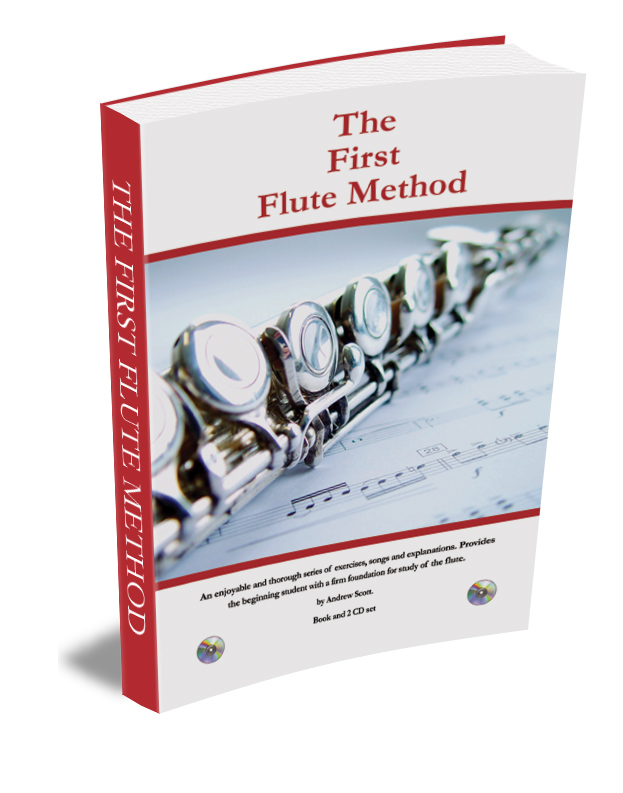 Sign Up 5 Free Flute Lessons via Email.
Each day for 5 days, I will send you a page or two from "The First Flute Method"

This free 5-day course gets you started today, and I promise NEVER to spam you or share your email address with anyone.
72 Page Method with 170 Play-Along Audio Tracks
The First Flute Method is an easy-to-follow system designed for the absolute beginner. It teaches you all the things you need to know to play the flute. It contains music from all styles and eras, so there is sure to be something you will really love.
Through a sequence of explanations, diagrams, exercises and songs, you will learn how to play the flute at your own pace. It will be helpful if you take lessons from a teacher also, but you can still achieve a lot by yourself.
No musical knowledge is necessary.
Topics covered include:
Putting the flute together

How to hold the flute

Making your first sound

Counting beats

Tuning the flute to the CD

How to breathe and blow properly

How to read music




and much more.
How to Put the Flute Together
The flute comes in 3 pieces – head joint, middle joint and foot joint. You will learn which part goes where from the clear illustrations and precise instructions.

How to Make a Sound
Anyone can sit down at a piano and play a note immediately. There's no skill to making a sound. On flute, it's different. Making a sound is all skill. You'll be shown how to make sounds with just the head joint, before you move on to assembling the flute.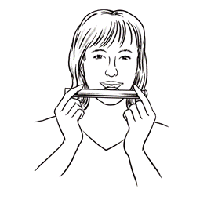 Fingering Diagrams
Learning where to put your fingers is easy when you have clear diagrams like the one below. When you have your instrument in your hands you'll have no trouble working out which finger goes where.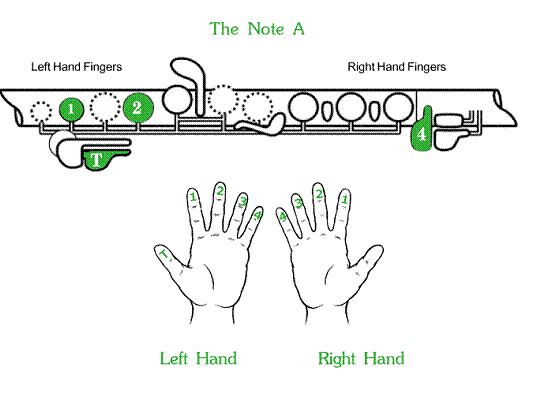 Blowing and Breathing
There's a simple way to blow and breathe for best results, but most people don't know it until they're shown. This book shows you how.
How to Read Music
Reading music is a skill that is very helpful to know when you play an instrument. You will be introduced to musical terms one at a time, and shown what they mean.
For example, here's a description of the treble clef, one of the first terms you will learn:

Fingering Index
In case you wish to jog your memory or even look ahead, the fingering index at the back of the book lists the fingering for the 18 most essential notes you will need to play the flute.
Blowing and Breathing
There's a simple way to blow and breathe with maximum efficiency, but most people don't know it until they're shown. This book shows you how.
How to Tune the Flute
If you're going to play your instrument with another player, you'll need to know how to tune up. This is discussed in Lesson 3.
You'll Learn Faster if You Know How it Should Sound
The 170 audio tracks that come with this method are a vital part of learning to play. When you can hear how an exercise or song should sound, you'll find it easier to understand. Each piece of music you are learning is played twice, once with an accompaniment and flute to demonstrate, then once with just the accompaniment, so you can play along. The 170 audio tracks are provided for your to download in either MP3 format, or sent to you on 2 CDs. All together, there are more than 2 hours of accompaniments.
There are more than 50 different styles, ranging from classical and pop through to rock and cool jazz. Tempos are slow (60 – 80 beats per minute), but lively, so you'll find it easy to keep up and still be able to tap your foot.
Listen to how good you can sound with just 2 notes!




Listen to 2 Note Samba




When you know 3 notes you can do this:




Listen to ABC Song




This one takes a few more notes, but it's not too far away.




Listen to The William Tell Overture



Play with a Friend
2 flutes sound better than 1. This method contains 14 duets with which to massage your ears.
There are chord symbols for every song and exercise, so a guitarist or keyboard player can play along with you.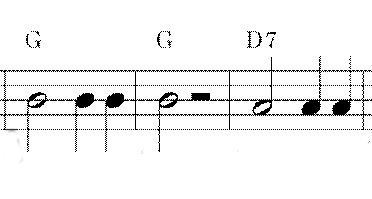 Musical Terms
Need to know the meaning of arpeggio, or semitone?
A short glossary of common musical terms is include on page 69. You'll never again be mystified at the mention of vibrato.
Ample Material
Containing nearly 170 exercises, songs, and pieces, The First Flute Method is a thorough system that will guide your study as you play and learn.
Option A: Standard Digital Edition

The First Flute Method,
Immediate download in PDF form

$29.95

170 MP3 Audio Backing Tracks.

$19.95

Total Value

$49.90

Discounted Sale Price

$20.00
Option B: Gold Digital Edition

The First Flute Method, + The Second Flute Method, Immediate download in PDF form
$40.00
267 MP3 Audio Backing Tracks

$40.00

Total Value

$80.00

Discounted Sale Price

$40.00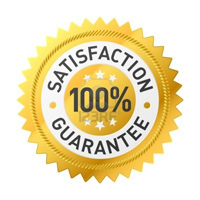 Plus! You get a money back guarantee. All I ask is that you give the program an honest 30-day trial. If you haven't made satisfactory progress at the end of that time, simply email me, and I'll refund your money in full.
I'm confident that you'll find The First Flute Method worth every penny.
I look forward to sharing my work with you.


Andrew Scott
P.S. The ability to play a musical instrument is a fantastic achievement, and it's right within your child's grasp. What better gift can you give your child or yourself?